Members
established since 2010
The Band Members


In 2010, eight like-minded friends from various Junior College symphonic bands came together to form an ensemble, with a passion to continue our pursuit of wind band music after graduation. Within a few months of practice, we were given the opportunity to mark our debut performance as a wedding band at Pan Pacific Hotel. In 2011, the band performed at venues such as the Church of St. Mary of the Angels and Ngee Ann City during the Christmas season. In 2012, the band was invited to perform at Mount Faber Jewel Box for the ASEAN Student Leaders Forum Social Night and was well received. Subsequently, the band held its inaugural sold-out concert titled '12: A Reinvention' at St. Clare Hall. In that same year, our jazz ensemble of five musicians performed at events which include Siemens Long Service Awards Dinner at Traders Hotel, a Wedding Solemnization at Shangri-La Hotel, as well as a Christmas festival at Millennia Walk.

In 2013, adjustments to our line-up expanded the band to its current strength of 13 members. The band was invited by a distinguished band conductor to perform as a guest band at the annual Inter Junior College & Secondary School Ensemble Competition held at Anglo-Chinese Junior College. The band also partnered the McNally Memorial Pipe Band to provide musical support at the St. Patrick's Day Parade held at Boat Quay, and our brass quintet was subsequently invited to perform at the Singapore-Southeast Asian Pipe Band Championships held at the Singapore Flyer. Following that, our pop ensemble performed at a private Birthday Party event, and also entertained guests with a lively performance at the Church of Saint Mary of the Angels 41st Anniversary Dinner at Orchard Hotel. In addition, the band partnered the SJI Pipe Band to guest perform at its annual Concert in the Park series held at the Shaw Foundation Symphony Stage in Singapore Botanic Gardens. The highlight of the year was our concert 'Con Fuoco: Identity' which was held at the Esplanade Recital Studio over 2 nights on 16 Dec and 17 Dec.

Our unique instrumentation consists of 13 parts: 1st Clarinet, 2nd Clarinet, Alto Saxophone, Tenor Saxophone, 1st Trumpet, 2nd Trumpet, French Horn, Trombone, Bass Trombone, Bass Guitar, Piano, Vocals/Synthesiser, and Drumset. We can also perform as smaller ensembles or sub-groups, namely as a woodwind quartet, brass quintet, rhythms ensemble, or as a pop/jazz ensemble with variations to the above-mentioned instruments.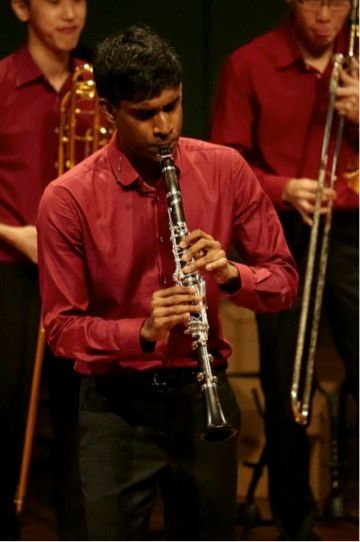 Clarinet
Tarun Jayaram, 26
Former school bands:
St. Joseph's Institution - Military Band
Catholic Junior College - Symphonic Band

Alumni bands:
Catholic Junior College - Alumni Band

External bands:
Anderson Junior College - Alumni Band
Anderson Junior College - Symphonic Band
SYF Presentation Night - Combined Band
Presbyterian High School - Symphonic Band
Anglo-Chinese School - Wind Orchestra

External music groups:
St. Joseph's Institution Pipe Band
McNally Memorial Pipe Band

Other instruments:
Bagpipes
Piano

Appointments:
Secretary of Catholic Junior College Symphonic Band
Clarinet Section Leader of Catholic Junior College Symphonic Band

Alto Saxophone
Stephanie Chew, 23
Former school bands:
CHIJ Secondary (Toa Payoh) - Concert Band
Catholic Junior College - Symphonic Band
National University of Singapore - Wind Symphony
National University of Singapore - Wind Ensemble

Alumni bands:
Catholic Junior College - Alumni Band

External bands:
Clementi Town Secondary School - Winds
Anderson Junior College - Alumni Band
Anderson Junior College - Symphonic Band
Anglo-Chinese School - Wind Orchestra
AudioImage Wind Ensemble
Junior College and Polytechnic Band Festival - Alumni Band

External orchestras:
Singapore National Youth Sinfonia

Other instruments:
Horn
Piano
Handbells

Music qualifications:
Associated Board of the Royal Schools of Music - Grade 8 Theory
Associated Board of the Royal Schools of Music - Grade 8 Piano

Band workshops or courses attended:
Wind Bands Association of Singapore - Sectional Leaders Workshop by Dr Richard Miles and Instrument Workshop by Kunitachi College of Music Faculty

Band working experience:
MusicGear Pte Ltd
Junior College and Polytechnic Band Festival
Singapore International Band Festival
Asia Pacific Band Directors Association
Wind Bands Association of Singapore - Windstars Ensemble

Appointments:
Quarter Master of Catholic Junior College Symphonic Band
Horn Section Leader of Catholic Junior College Symphonic Band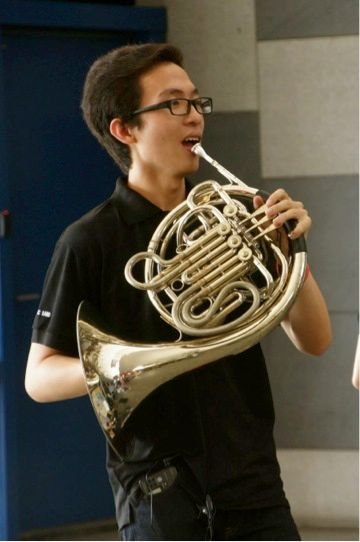 Horn
Joey Lim, 19
Former school band:
Presbyterian High School Symphonic Band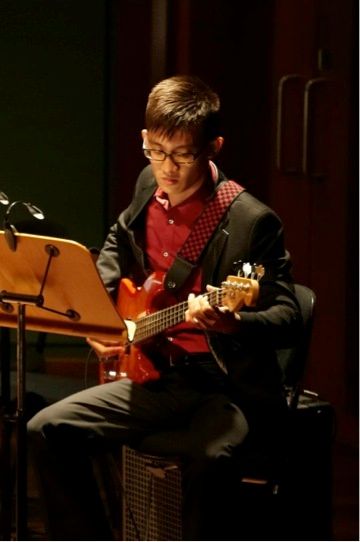 Bass Guitar
Goh Zhe An, 22
Former school bands:
Mayflower Secondary School - Concert Band
Catholic Junior College - Symphonic Band

External bands:
Anderson Junior College - Alumni Band

Other instruments:
Bassoon
Piano
Guitar

Appointments:
Band Major of Mayflower Secondary School Concert Band
Student Conductor of Catholic Junior College Symphonic Band






Drumset
David Lim, 22









Members on hiatus: Max Tham (Clarinet), Agnes Chong (Alto/Tenor Saxophone), Tay Guan Heng (Trumpet), Syafiq Bustamam (Trumpet), Yeow Tong (Trombone), Jiffsen Nyan (Bass Trombone/Arranger), Marc Yeo (Percussion/Keyboard/Arranger), Joachim Lim (Percussion), Albert Bingei (Clarinet), Darrel Koh (Trumpet)

Past members: Goh Yi Fang (Piano), James Foo (Horn) Sandra Wong (Horn), Leah Kwang (Alto Saxophone), Jeremy Toh (Alto Saxophone), Melvin Hong (Alto Saxophone), Dick Chua (Trombone)

Guest players: Koo Wanyu (Clarinet), Tara Chan (Percussion), Jasmine Peh (Bass Guitar), Muraledharan Naidu (Drumset), Vignesh Mohandasan (Trumpet), Andi Shafiq (Trumpet), Julian Chua (Bagpipe), Jeremy Ng (Percussion); Faeliq Ramley (Sound Engineer), Goh Yi Fang (Stage Manager)



Events





Upcoming Performances





Stay tuned for more information!




Previous Performances





The McPärry Band @ Singapore Flyer on 15 February 2015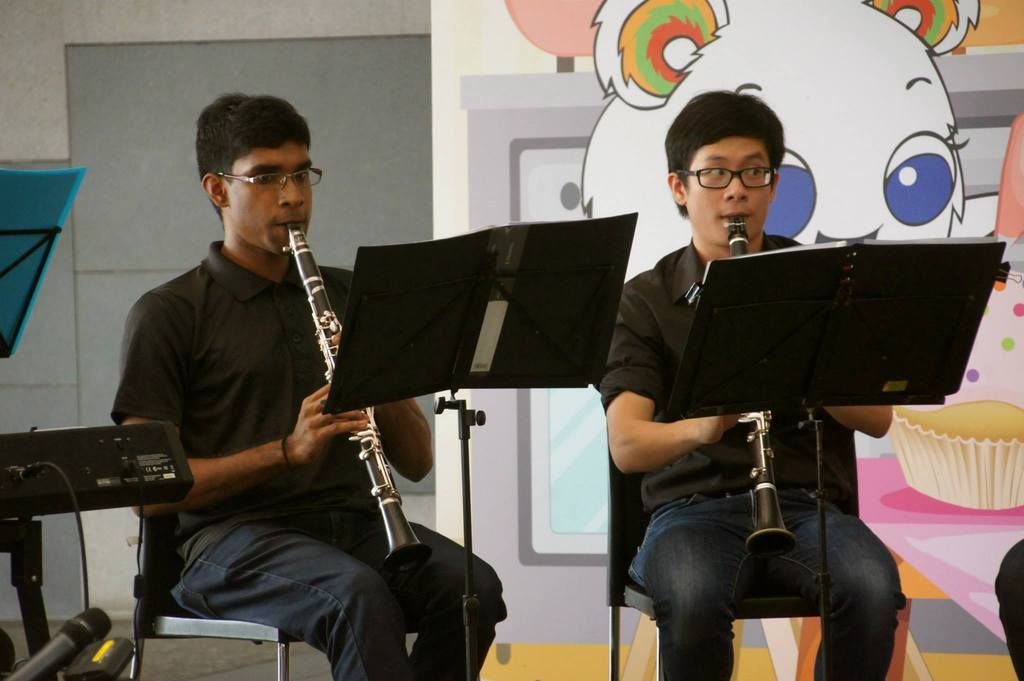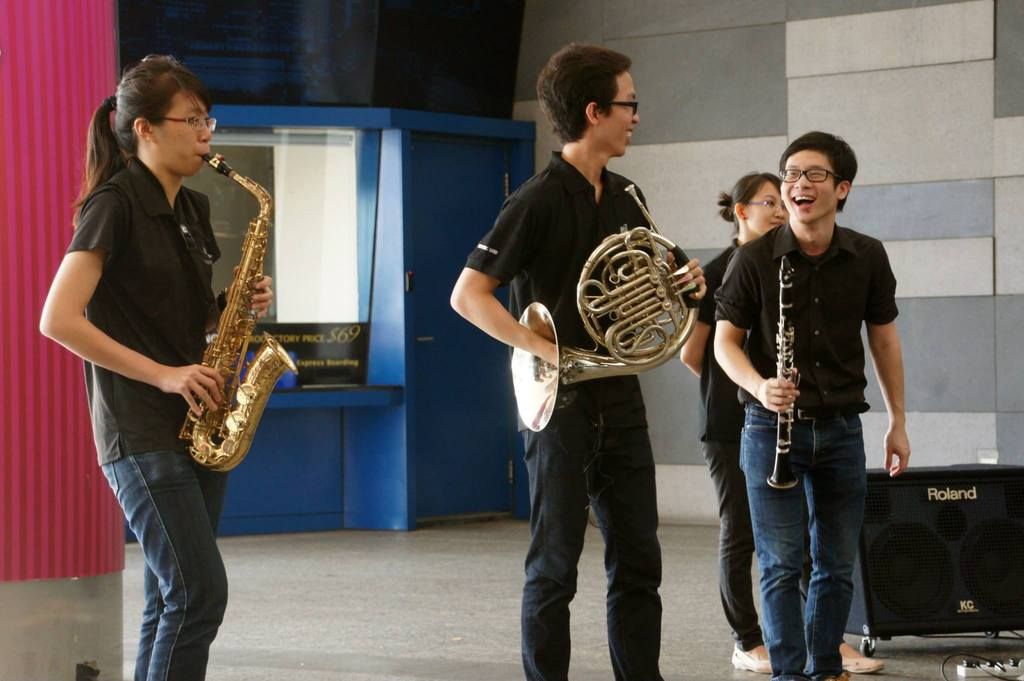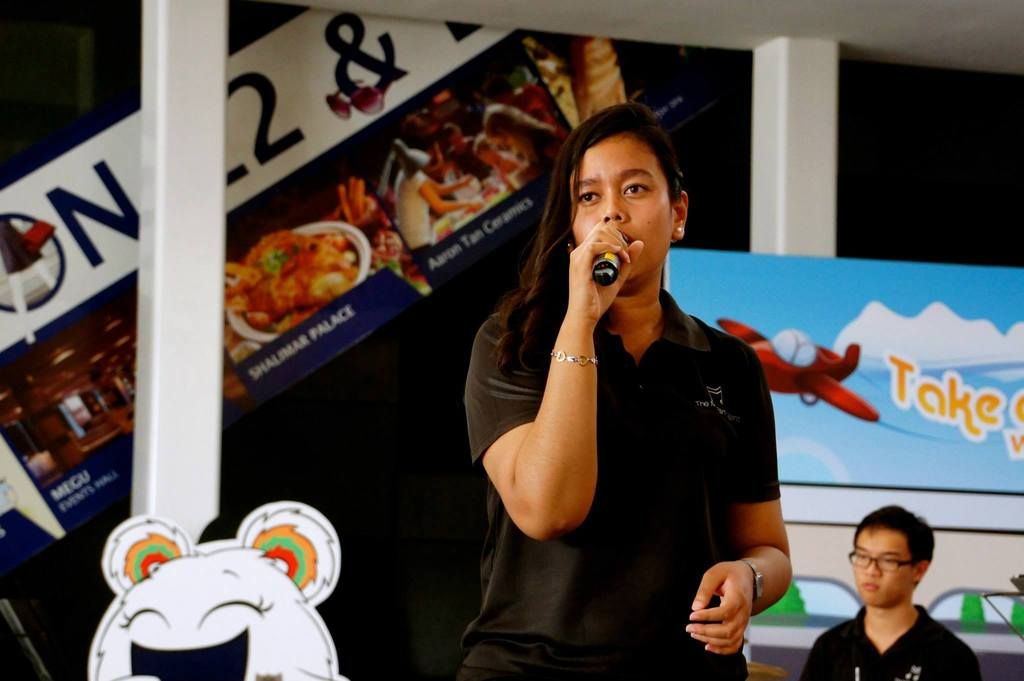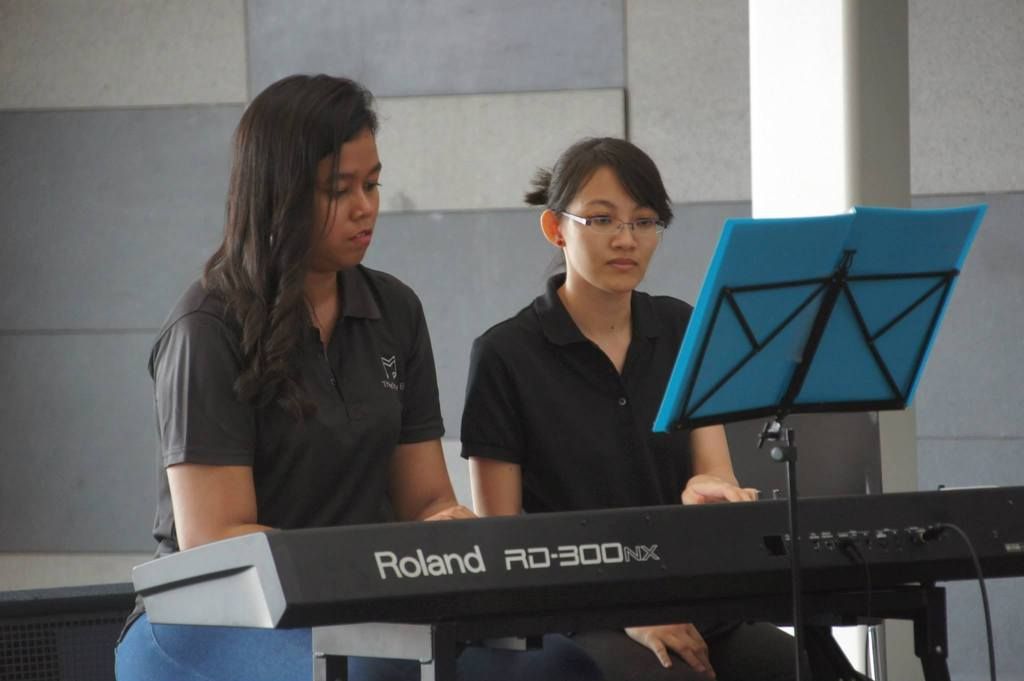 Our annual concert (Con Fuoco: Identity) at Esplanade Recital Studio on 16th & 17th December 2013




Concert in the Park at Singapore Botanic Gardens on 14th September 2013




Church of Saint Mary of the Angels 41st Anniversary Dinner at Orchard Hotel on 17th August 2013




Birthday Party Gig at Private Residence on 22nd June 2013




Singapore-Southeast Asian Pipe Band Championships at Singapore Flyer on 9th June 2013




St. Patrick's Day Parade at Boat Quay on 17th March 2013




Inter JC/SS Ensemble Competition at Anglo-Chinese Junior College on 2nd February 2013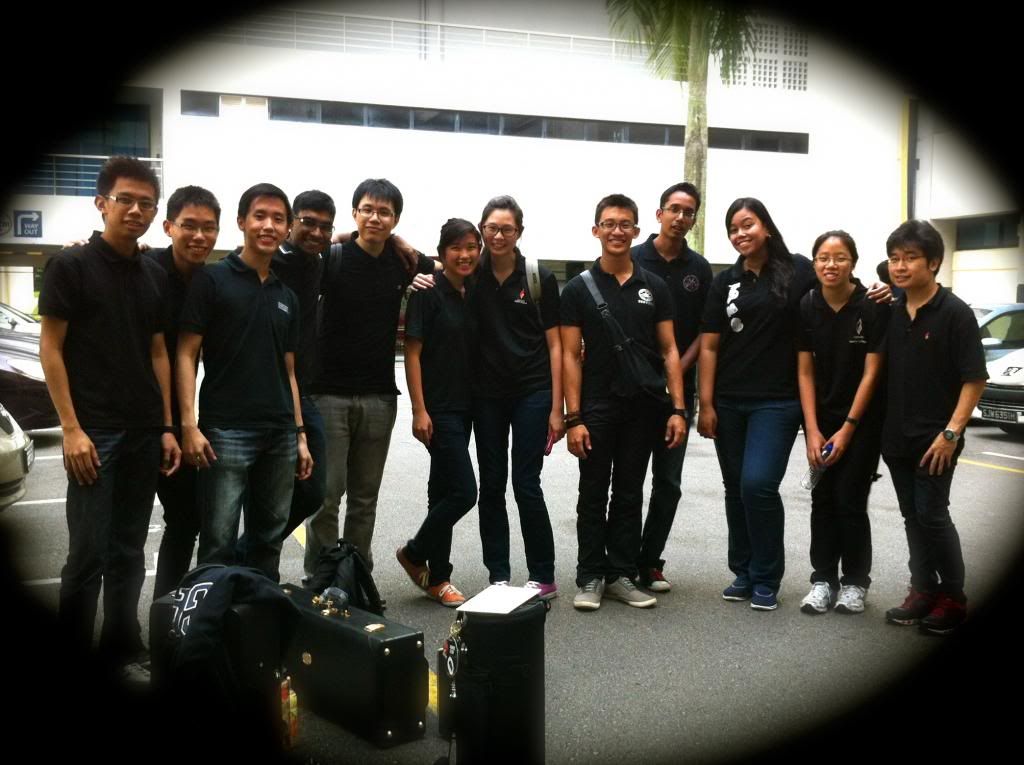 Wedding Solemnization at Shangri-La Hotel on 30th December 2012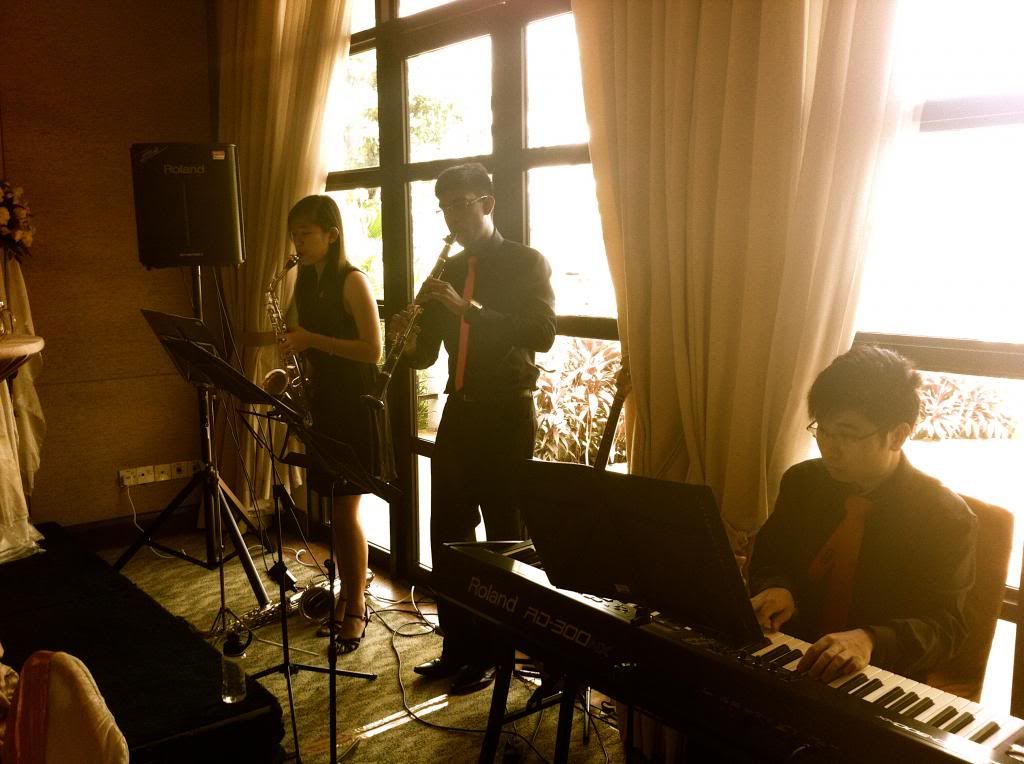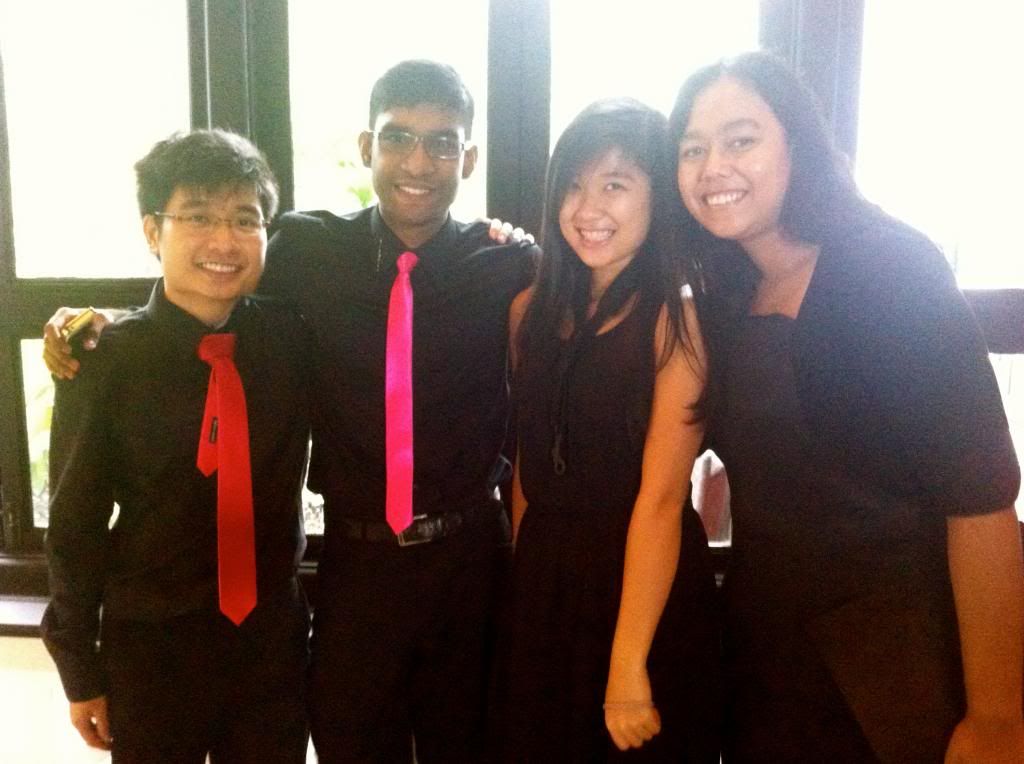 Christmas Performance at Millennia Walk on 9th December 2012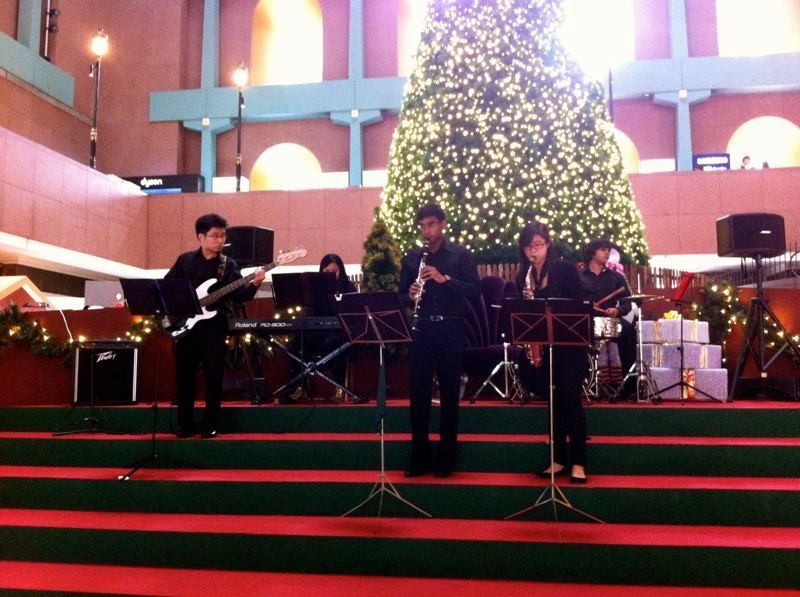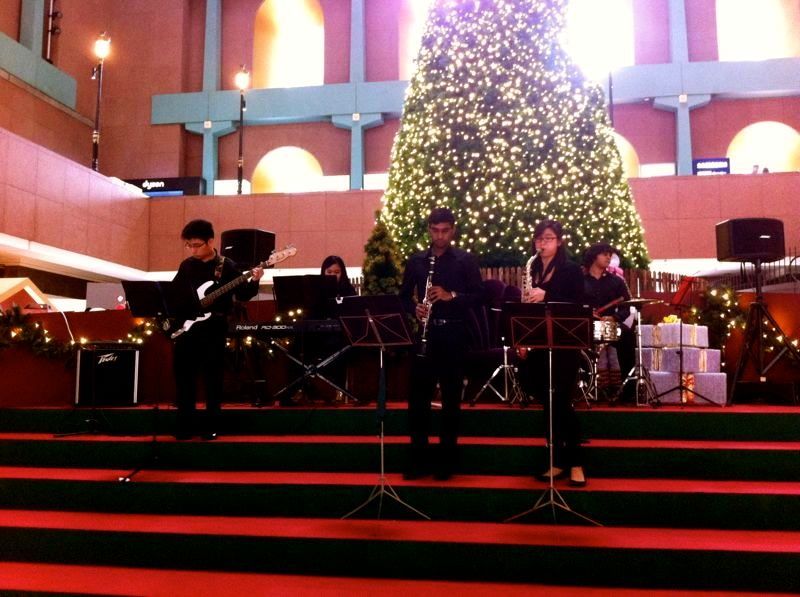 Christmas Performance at Millennia Walk on 1st December 2012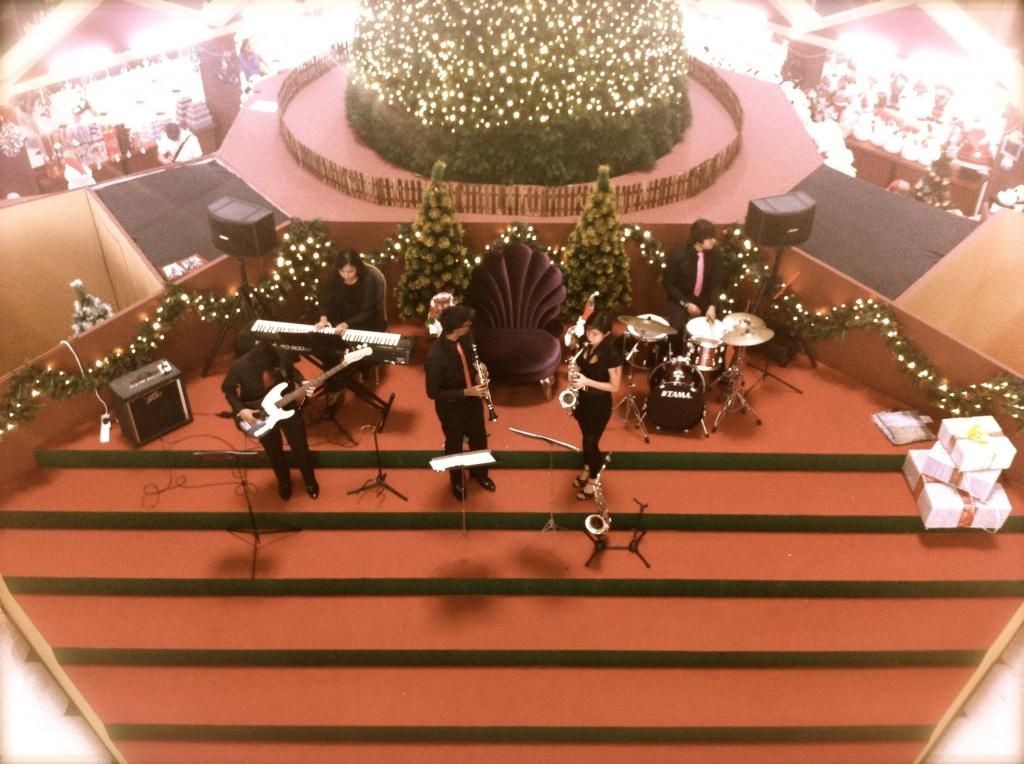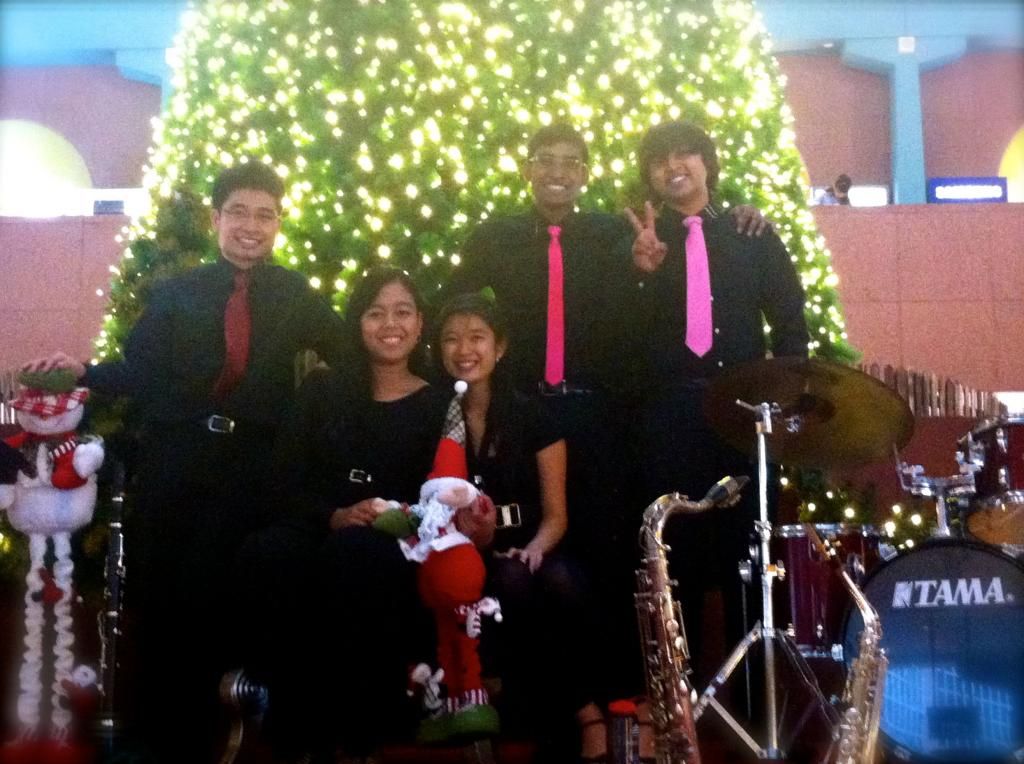 Siemens Long Service Awards Dinner at Traders Hotel on 29th November 2012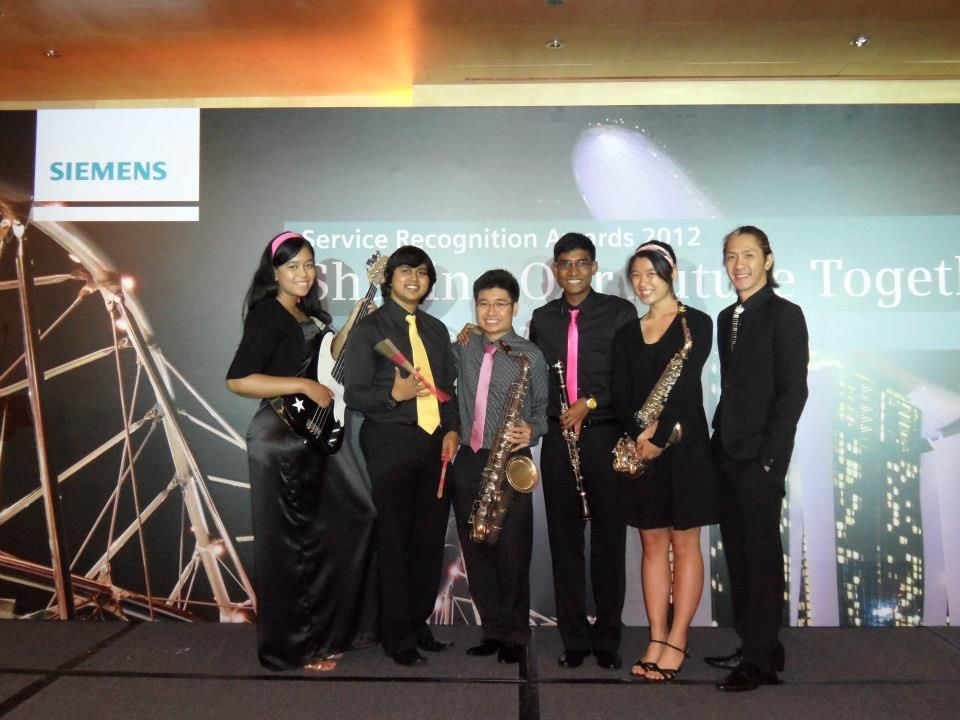 Our debut concert (12: A Reinvention) at St. Clare Hall on 27th October 2012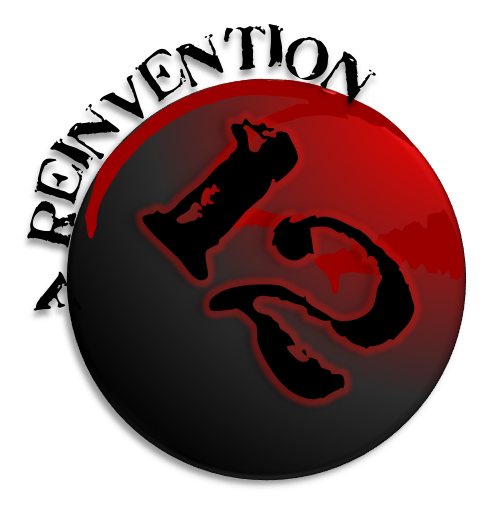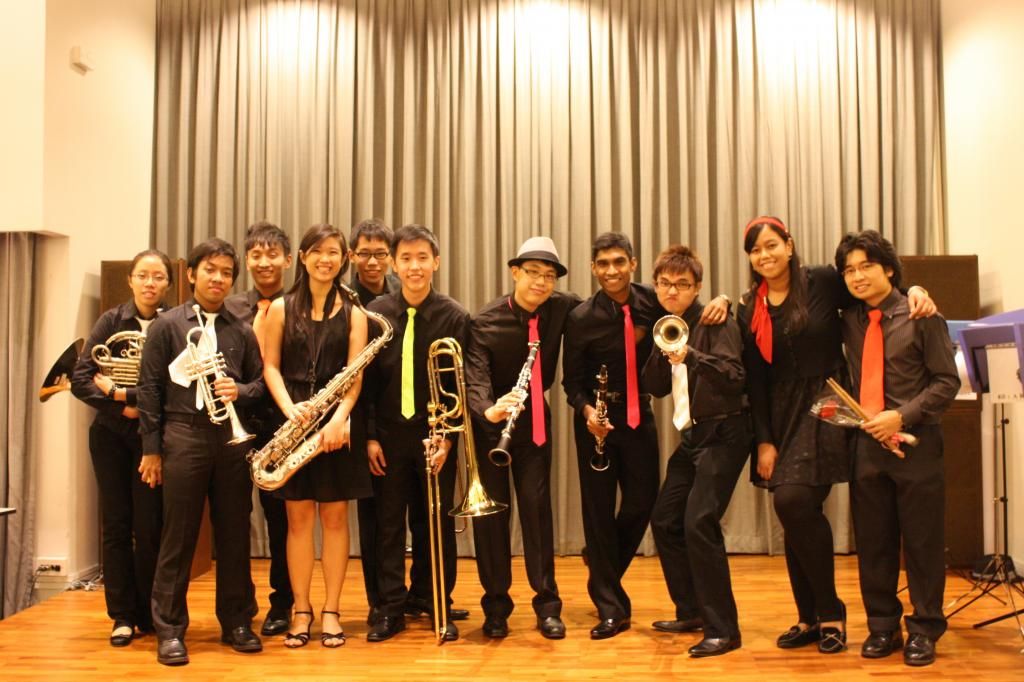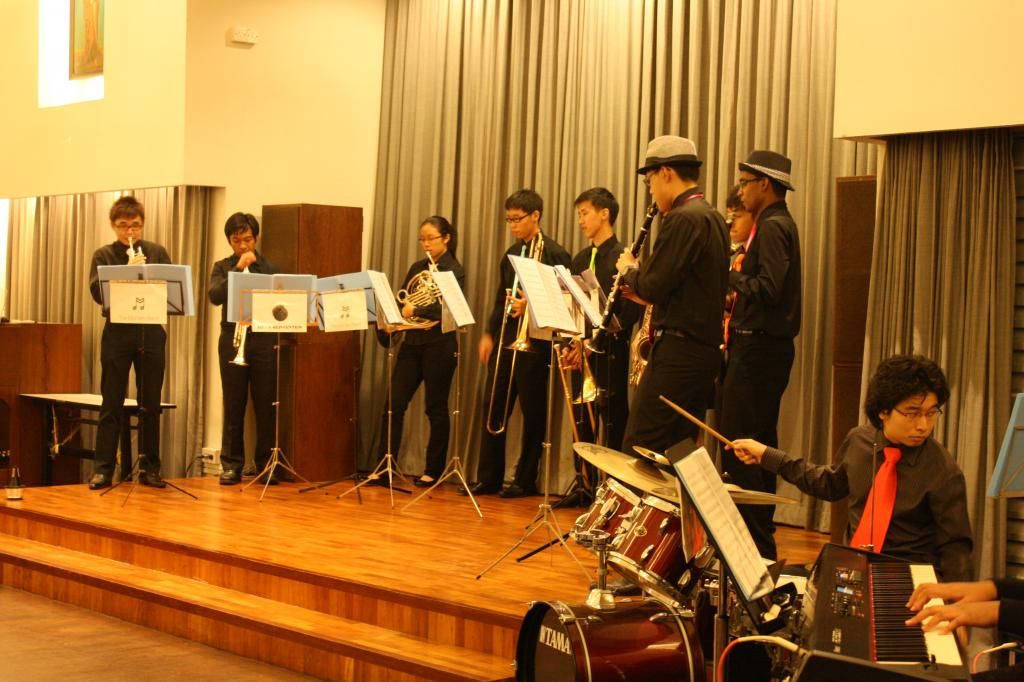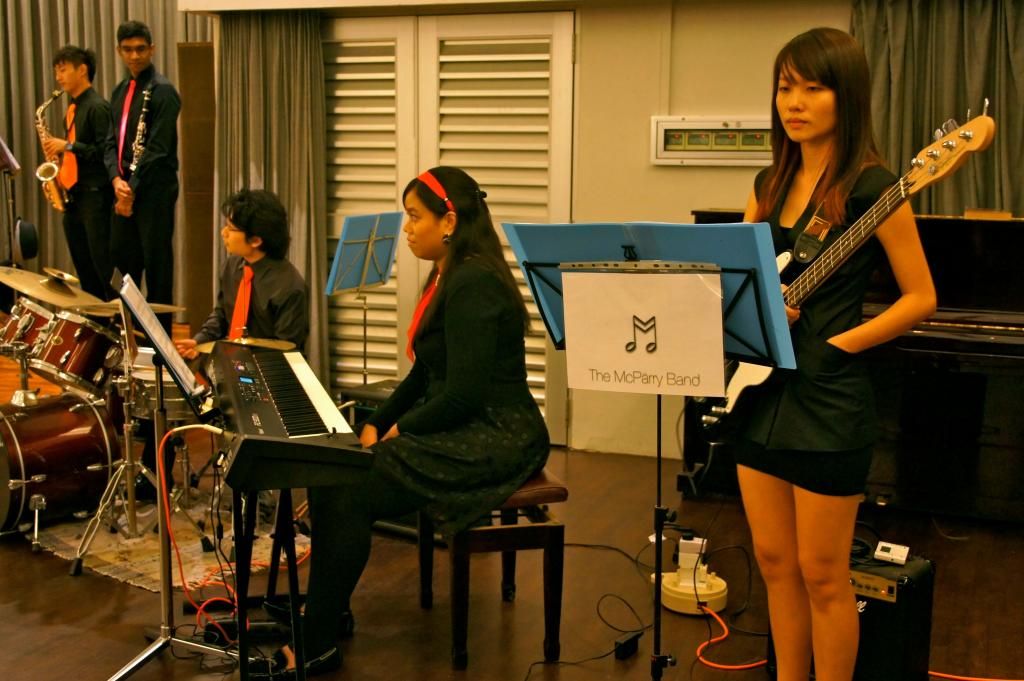 ASEAN Student Leaders Forum Social Night at Mount Faber Jewel Box (2012)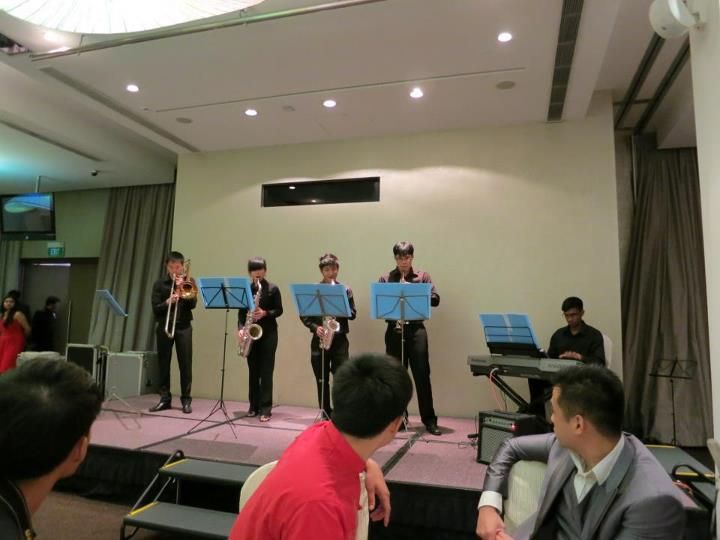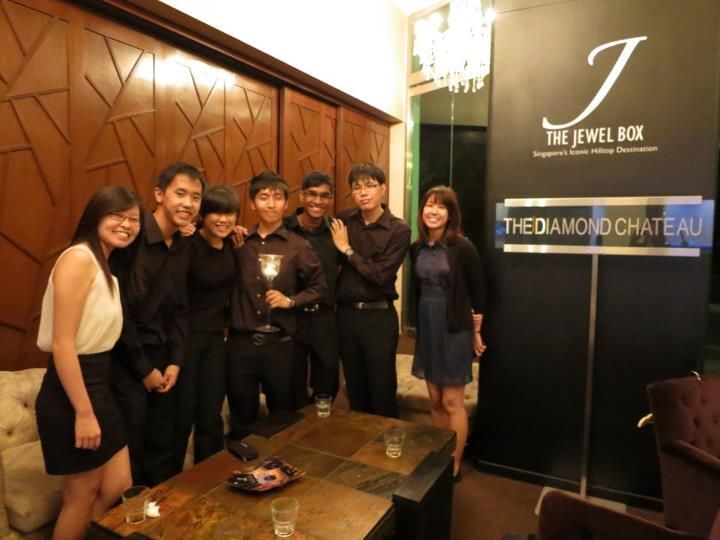 Christmas Performance at Ngee Ann City (2011)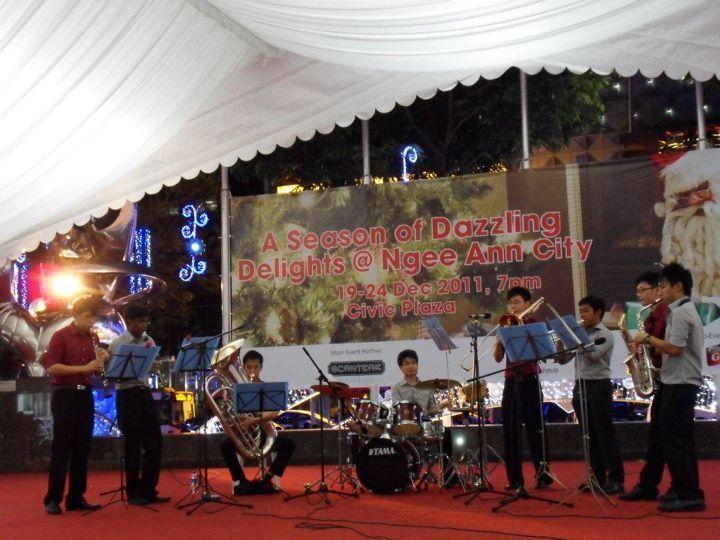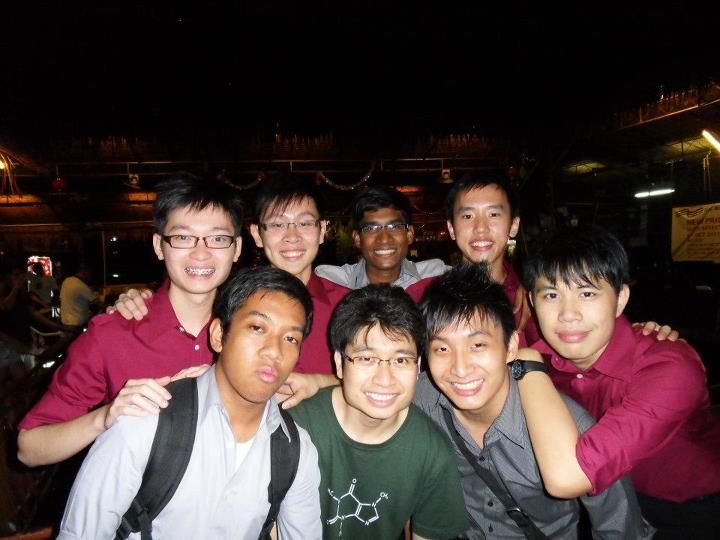 Advent Performance at Church of Saint Mary of the Angels (2011)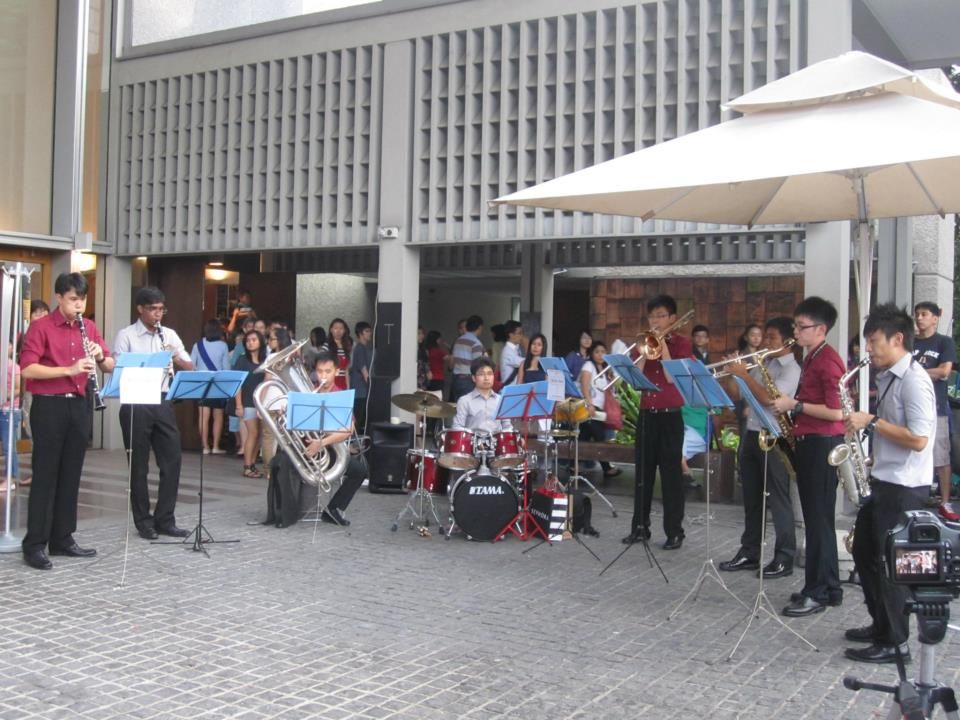 Wedding Performance at Pan Pacific Hotel (2011)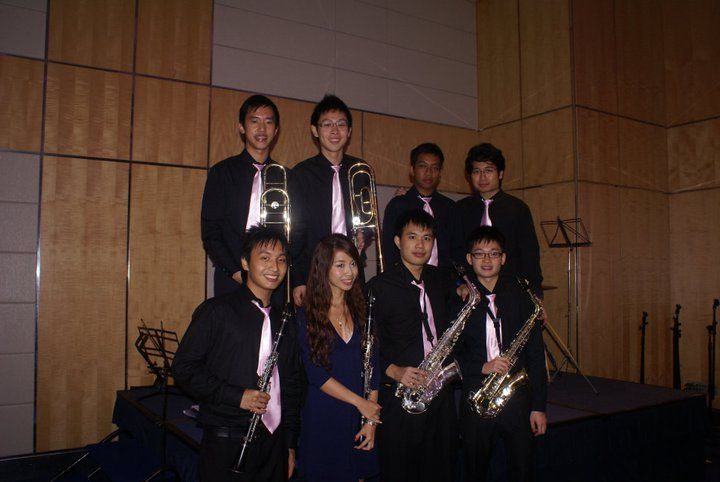 Jamming Session at Parry Ave (2011)


Repertoire




list of songs








March From 1941

A piece based on one of John Williams' most requested titles from his distinguished career in film music





Allegretto from Symphony Nr.7 in A major, Op.92

A piece based on Ludwig van Beethoven's remarkable masterpiece, which was written when he was almost completely deaf





The Princess Pentalogy Project

A massive arrangement that features 5 distinct Disney princesses from the movies





A Little Drummer Bolero

A unique hybrid of two well known classics: A Little Drummer Boy & Bolero





NSB Epiphany

An arrangement of early American hits in various styles such as dixieland and swing, with a distinct New Sounds in Brass influence





Maroon-Mix!

A mash-up of Maroon 5's most popular hits like 'Moves Like Jagger', 'Payphone', 'She Will Be Loved', 'Sunday Morning', and 'Misery'





Bohemian Rhapsody

A piece based on one of Queen's best-selling singles of all time, originally written by Freddie Mercury





Another Christmas Festival

An arrangement of Christmas classics based on Leroy Anderson's masterpiece of a similar title





Sousa's Holiday – The Stars and Stripes Forever

A jazzy arrangement of John Philip Sousa's famous march, "The Stars and Stripes Forever" with big band influences





Journey Medley

A medley of 3 timeless classics, 'Don't Stop Believin', 'Open Arms' and 'Separate Ways'





NSB Odyssey

An arrangement of jazz favourites from as early 1900s with a distinct New Sounds in Brass influence





NSB Fantasy

An arrangement of oldie songs including Gershwin's 'Swanee' and 'Oh, Lady Be Good!' with a distinct New Sounds in Brass influence





Kiss from a Rose

A piece based on Seal's evergreen pop/soul hit which appeared in the soundtrack of Batman Forever





Lucky

A piece based on American pop singer, Jason's Mraz' unmistakeable hit single of the same title





All I Want For Christmas Is You

An arrangement of Mariah Carey's Christmas hit of the same title





Christmas Medley

An arrangement of famous Christmas carols in varying styles such as Chorale, Classical and Jazz





Umbrella

An alternative take on Rihanna's famous hit presented in a reggae and Bossa Nova style





Rolling in the Deep

An alternative interpretation of one of Adele's greatest hits in Rock, Jazz and Samba style





The Wicked Medley

Medley from the critically acclaimed Broadway musical, Wicked, including its greatest hit: Defying Gravity





What a Wonderful World

Slow. Ballad. Louis Armstrong. Classic.





Waltz Nr.2 from Suite for Variety Orchestra

Dmitri Shostakovich's well-known grand Waltz originally written for a large Orchestra





The Explosion Medley

An intricate mash-up of explosive songs by Katy Perry (Firework), Taio Cruz (Dynamite), Bruno Mars (Grenade)









Beyond The Sea

Charles Trenet and Jack Lawrence





If I Ain't Got You

Alicia Keys





Imagine

John Lennon





Lucky

Jason Mraz ft. Colbie Cailat





Your Song

Elton John





L-O-V-E

Nat King Cole





Ashitaka to San, from Princess Mononoke

Joe Hisaishi





Across the Universe

Beatles





Yuki

Ruth Morris Grat





Desperado

Eagles





Open Arms

Journey





She

Elvis Costello





Tears of Moon

Koji Orita and Masnori Taruya





What a Wonderful World

Louis Armstrong





Let it Be

Beatles





Someone to Watch Over Me

George Gershwin





We've Only Just Begun

The Carpenters





Mona Lisa

Nat King Cole





Rolling in the Deep

Adele





I See the Light

Mandy Moore and Zachary Levi





Valentine

Martina McBride







Note: The above mentioned pieces are tentative and may be subject to change. Please feel free to discuss any matters regarding our repertoire with us.





music




Concert at Esplanade Recital Studio (2013)
The Princess Pentalogy Project




Concert at St. Clare Hall (2012)
NSB Odyssey




Christmas Performance at Millennia Walk (2012)
Tears of Moon




Christmas Performance at Ngee Ann City (2011)
Sousa's Holiday: The Stars and Stripes Forever





Contact
Give McPärry a shoutout
or you may directly contact us at mcparry@hotmail.com